CAL alumni, what do they do now? Interview with Lotte Salomé
Until now, we mainly posted about our current projects and graduation students. But what happens after graduation? What do our alumni do now? In this second edition of "CAL alumni, what do they do now?" we interviewed Lotte Salomé, who graduated in 2018 on the design of the interface of an ICU dashboard.
What was your graduation project about?
The ICU is a complex and costly environment, where nurses deal with up to 200 daily care steps per patient, a multitude of IT systems, information overspill, administrative burden and a high rate of false alerts. These stressors decrease nurse performance and increase the chance on stress-related illness and harming patient safety. In collaboration with CAL and the company New Compliance, I graduated on the design of a dashboard interface for the ICU of the Erasmus MC. The goal of this dashboard was to improve patient safety and work satisfactory of the employees at the ICU. This was done by visualizing the current state of each patient on a medical as well as a logistic level, through showing and combining real-time, accurate and relevant information.
How do you look back on your graduation project?
It was a complex project I enjoyed working on a lot. I had the opportunity to work in a very interesting context with people that give all they have to save human lives. I am grateful I had the chance to do so.
At the moment I am working as a service designer at Muzus. We work on different projects in the social domain in which we put the user first. User research through contextmapping serves as a base for rich visualisations and designs that create positive impact.
How did your graduation project prepare you for your current job (or not)?
During my graduation I used the method contextmapping to get grip on a complex context, which is something I do on a daily basis at work now.
When I conducted my research I talked with people about really sensitive topics. This experience prepared me for other sensitive conversations I have during my work as well.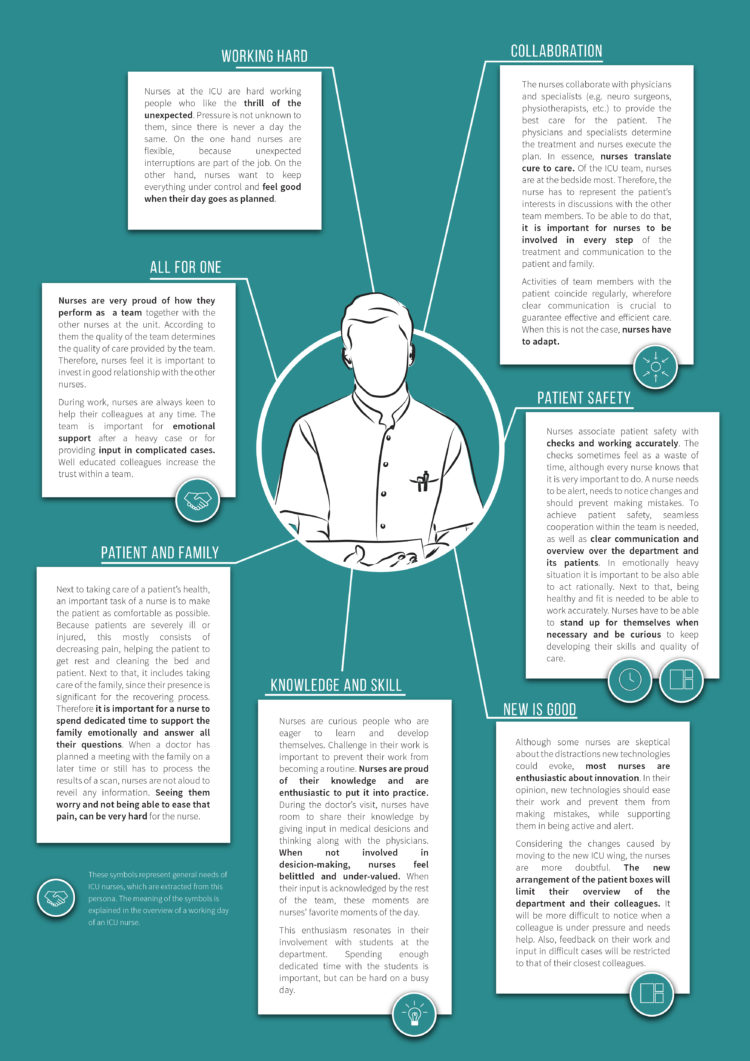 What is the most valuable experience you remember from your graduation project?
People are always willing to help you out with your project. They open up and tell the most sensitive stories when you are open and honest as well.
Of some ICU nurses I asked a lot of time, but they kept being interested and helpful. The way they are committed to their patients and saving lives has been really impressive to observe.
What advice would you give current graduation students?
Go out and get yourself into the context you design for. Every conversation or observation will be one step towards understanding what elements are involved and are important for your project.